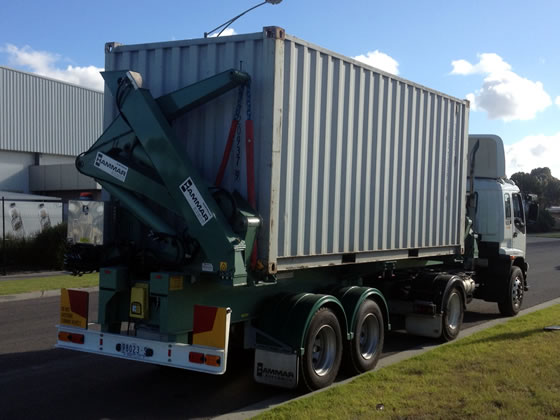 Interstate Container Removals
Interstate container removals are a popular choice when relocating a home and/or business from Melbourne as there are many compelling reasons to hire a container for your move rather than a removalist.
Quicktow specialises in interstate container removals from Melbourne to Sydney and from Melbourne to Adelaide. Our interstate shipping container removals fleet include tilt trays and side loaders.
The benefits of interstate container removals include:
Time
Packing can be exhausting, especially when you're in a rush. When you hire a container to move, it can be delivered to your home or business days, or even weeks, before you move. This gives you ample time to pack your things without pressure. Instead of having a house or business filled with boxes and chaos, you'll be much more organised and relaxed when you can pack at your own pace. Containers can be stored easily at your property, making them a very convenient option.
Security.
We've all heard horror stories about valuables going missing in transit. When you pack a container yourself, there's much less chance of items disappearing. You're able to ensure that breakables are packed securely, and there's no chance of boxes being dropped by clumsy removalists.
You get to oversee the packing and make sure it's all done to your satisfaction, which is a very different experience to hiring removalists to pack for you. With removalists, once your furniture and belongings have been removed from your home or place of business, you must trust that they won't be scratched or damaged. While there are many professional removalists out there who do the best job they can, no one will be as careful with your belongings as you are.
Flexibility
One of the best things about containers is that they can be used as storage when necessary. If you need to wait for a new property to be completed, a container can be taken to a storage facility, or left at the property, until you're ready to unpack. This is far more efficient than unpacking your belongings into a storage unit and then re-packing them all over again.
Containers are also more flexible if you have a change in schedule. It's not unusual for plans to be disrupted when moving, and if you need to push your moving date off, it's not as much of a headache because container transport is less labour intensive. Rescheduling a removalist on the other hand is trickier. They may be fully booked and unable to accommodate your new moving date, leaving you to find a new removalist at the last moment.
Sizes
Containers come in a range of sizes to suit different needs. The most popular choice is a 20 foot container, but 10 foot and 40 foot containers are also available. Speak to the experts about what size is most suitable for you.
Cost
Removalists work by the hour and costs can add up. Hiring a container and packing it yourself for interstate container removals can save you a significant amount of money.  
At Quicktow we have many years of experience with interstate container removals and we're happy to answer any questions you have.