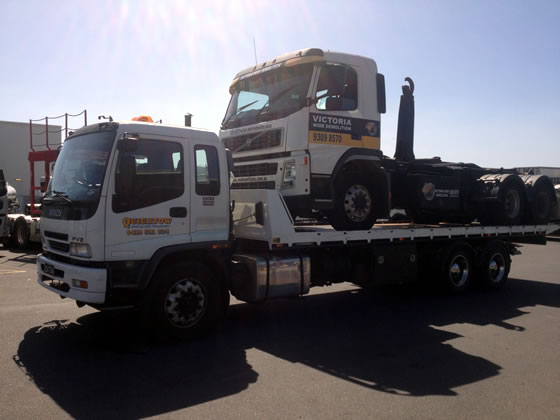 Interstate Truck Transportation Services
Quicktow specialises in interstate truck transportation services by utilising its modern tilt tray truck fleet for the retrieval of broken down trucks.
Based in Melbourne, Quicktow's interstate truck transport services covers the routes from Melbourne to Sydney and Melbourne to Adelaide.
Breakdown Safety Tips for Interstate Truck Transport
When a truck breaks down during an interstate trip, sometimes repairs can be made onsite. In other cases. interstate truck transport may be required. While the truck is broken down on the roadside there are many safety precautions that need to be followed.
These safety tips will help to minimise risks to the public while the driver is waiting for repairs or transportation back to depot or workshop.
Stop in a safe place
If a truck is experiencing engine problems, it's usually possible to coast for a while before coming to a stop. When looking for the best place to pull over, the driver needs to consider if there is enough room on the shoulder of the road and if traffic can pass safely. A 3 metre clearance is recommended.
The driver also needs to check for visibility, particularly when stopping near a corner, as it may be difficult for oncoming traffic to see the break down. If it's not possible to stop within a safe distance of passing traffic, the police or State Roads Agency may need to provide traffic control until the truck can be moved to a safer location.
A flat, hard surface is important for changing tyres and stability. If they are transporting dangerous goods, drivers should be aware of schools and shops in the area, and stop as far away as possible from these busy locations, alerting authorities to their presence.
If truck transport is required, there needs to be sufficient room for a tilt tray to gain access to the truck for loading.
Secure the scene
To secure the scene after they have stopped in a safe location, drivers should activate the hazard lights to help motorists see the truck. On exiting the vehicle, drivers should remove any debris from the road when it is safe to do so and make sure their load is secure. In some cases, unloading may be required for stability.
Emergency warning triangles can be placed behind the vehicle at the proscribed distances, and electronic flares can be activated at the rear of the truck. Tyre fittings should only be done on a hard, flat surface that can support the load, and the truck should be immobilised through wheel chocks and other devices to prevent accidental movement.
Assess the situation
Once the scene has been secured it's possible to assess whether repairs can take place on site or if the truck needs to be moved to a workshop. Consideration needs to be given to how much room there is at the location to work on the truck safely, and if crash barriers and other roadside fixtures may be in the way.
Major risk factors for repair work being carried out on the roadside include the traffic speed, volume and distance from the work site, visibility, weather conditions and time of day. In some instances, transporting your truck back to a workshop will be the best and safest option.